Kelly is a psychic medium and channel. She offers Tarot readings, animal communication sessions, energy healings, and other lightwork services. She is based in Singapore.
What is blessing, and how do we receive + maintain it? 
There's a right way and a wrong way to get the blessing and keep it. This week's reading highlights some important Spiritual principles that we would do well to adhere to.
So let's get to the reading!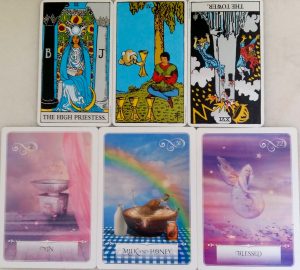 TAROT
LEFT: THE HIGH PRIESTESS. This is not a good week to spill secrets, gossip, play power games, or do anything associated with low-vibrational feminine energy. No more drama queens, perpetual victims, or petty bitches, please – the Universe is saying, "Enough!". She urges you to reconnect with your Higher Self and come back to a place of deep knowing, of intuitive wisdom, and of the compassion that arises naturally when we are in sync with our Souls and with the Universe.
This week, be good to yourself. Take a step back from the difficult situations you might be in. Carve out me-time and meditate. Go out and commune with Nature. Get back in touch with yourself. Take a higher perspective of things, and remember that All Is One.
That nasty co-worker, that dangerous driver who cut into your lane this morning, that awful woman you have to call your mother – they are human, too. And like you, they desire to be happy, and to be free of pain. Maybe they're not achieving their goals in the best way, but who's perfect?
May you be blessed with compassion for others as you extend kindness to yourself.
MIDDLE: FOUR OF CUPS. This card traditionally refers to stagnation, but is also what we sometimes call the Sulker's card. The artwork here depicts a young person seated on the ground, arms folded, looking grouchy. He's so wrapped up in self-pity that he fails to notice THE MIRACLE HAPPENING IN FRONT OF HIM – how often does a hand appear from a cloud to serve you a drink?! – and so while he's whining about being taken for granted, this person is also taking Divine blessing for granted.
Many of you are familiar with the fact that gratitude opens the door to blessing and more blessing. The opposite of this fact is also true:
an attitude of ingratitude revokes the blessing, and incurs negativity.
Look around you. The people who whine and bitch about their lives never seem to get anywhere, no matter how hard they pretend otherwise. And even if they do, notice how something almost always goes wrong with the blessing. The sulker loses whatever advantage they had – which then really gives them something to moan about!
It's almost as if the universe is watching.
RIGHT: THE TOWER REVERSED. A storm is coming. Someone needs to grow up, and/or a situation needs to be liberated from the rut it's in right now. The Universe is getting Her smacking stick ready. In the reversed position, this opportunity for growth will present itself as a crisis that will NOT end cleanly – there could still be some unfinished business after the dust settles. Prepare for Round 2 some time in the future. This could get ugly, so brace yourself.
So much depends on how willing people are to evolve. If the Universe is calling on you to learn and grow, do it!
*
WISDOM OF THE TAROT
BE BLESSED: YIN. In this Oracle deck, I've come to associate this card with the appearance of the Goddess. She's here to remind us that She will never leave us nor forsake us – so long as we are true to Her.
By honouring the Divine spark within us, we draw the grace of the Goddess into our lives. We don't have to act out to get what we want – Yin depicts a sacred receptivity to the role of the Goddess in co-creating our destinies with us.
Whatever it is you desire, do your best, give it all you've got, then let go and let Her take over. Whoever or whatever is meant for you will not go past you. Trust.
BE CAREFUL: MILK AND HONEY. It's time to stop running away from your truth. When this card appears in the warning position, some of you might be resorting to retail therapy or some form of material gain to distract yourselves from your misery. There's also the element of pride, the fear of losing face, and the desperate need to keep up appearances. If this is you:
Dear you,

stop being a fake-ass bitch.

Put down your new Chanel bag. ask yourself what you're running away from. Your pretend happiness and Instacrap lifestyle aren't fooling anyone.

Life is so much better when you're real.

Love, The Universe

PS – prepping my smacking stick.
BE ADVISED: BLESSED. This reading begins and ends with reminders from Spirit on what to do to get the blessing! Clearly the Goddess wishes to bless us richly – and the key to unlocking Her Grace in our lives is humility + gratitude.
Remember that you are but dust; it is Spirit that gives you life. Be thankful.
Have a great week ahead!
*          *          *          *          *
Seeking assistance from Spirit for love/career/your future, energy healing for people and spaces, or pet communication?
CLICK HERE for more information about my services.
CLICK HERE to make your booking. Please note that advance payment is compulsory and unpaid bookings will be cancelled.
CLICK HERE to submit a Contact Form if you have further enquiries.
Or e-mail: [email protected]