[Photo by Llywelyn Nys on Unsplash]
Kelly is a psychic medium and channel. She offers Tarot readings, animal communication sessions, energy healings, and other lightwork services. She is based in Singapore.
Libra season is officially over: this Monday, 23 October, the life-giving Sun joins jolly Jupiter in Scorpio. 
As the Fixed Water sign of the zodiac, Scorpio's energies are deep, intense, and transformative. A good use of Scorpionic vibes this season would be to do some deep inner work, exploring our spirituality, sexuality, and the shadow aspects of our Self. With Jupiter in Scorpio, this is also a great time to work on improving our finances and investments.
Be careful how your relationships go this season: the dark side of love and attachment will come under scrutiny. Whatever you call 'love' that is actually dysfunctional, codependent, possessive, or plain batshit insane will be exposed. And you'll have to decide what to do about it.
Whatever you call 'love' that is actually dysfunctional, codependent, possessive, or plain batshit insane will be exposed.
In the Northern hemisphere, psychic sensitivity will be high and rising: the veil between the worlds grows ever thinner, and will culminate in what Wiccans call Samhain (known elsewhere as All Hallow's Eve/Day aka Halloween) on 31 October – 1 November. More on that in next week's post!
For now, my darlings in the North, just bear in mind that you might find yourself accessing your intuition + psychic senses more easily, and receiving more visits, messages + information from the Spirit realm in the next couple of weeks.
Learn to trust your inner being; understand that much of this Universe we live in cannot be seen with the eye, but must be felt with the soul.

And give yourself permission to be psychic!
With that, here's this week's Tarot & Oracle reading: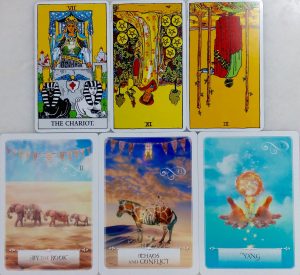 TAROT
LEFT: THE CHARIOT. Charge! When this card appears, expect the pace of life to speed up, especially at the workplace. What's important: make sure your plans, procedures and protocols are all in place. This energy can bring you great outcomes by sheer force of velocity + momentum.
MIDDLE: NINE OF PENTACLES REVERSED. On the other hand, what can derail the Chariot's mighty course? The reversed Nine of Pentacles shows the answer: sloppy work and bad decisions can wreck even the Rolls Royce of Chariots. Your memo this week is to check yourself before you wreck yourself. Literally.
RIGHT: THREE OF WANDS REVERSED. Upright, the Three of Wands signifies expansion and successful new ventures; upside down, beware the blind spots that overweening ambition can bring about. Keep your focus on the practical little things that matter, not just your own plans for world domination.
For what shall it profit a man, if he gain the whole world, and suffer the loss of his soul? – Jesus Christ
If you've achieved your dream promotion at work but you've lost touch with family and friends, if you've attained your ideal weight and dress size but now your health is shot, if you've scored a 'perfect' boyfriend who screams insults at you and hits you when no one's looking, have you really won?
Remember the 'little things' – like love, health, Peace, HAPPINESS and self-esteem.

The little things matter.
 *
WISDOM OF THE ORACLE
BE BLESSED: BY THE BOOK. Your blessing will come to you powerfully when you do the right things, the right way. This card has appeared to remind us that it is wise to respect the rules and obey authority. By no means are you required to kiss ass, but let's leave the maverick moves for a more suitable occasion.
BE CAREFUL: CHAOS AND CONFLICT. This is as clear as it gets! Watch out for the possibility of misunderstandings and tension. Visually, this card depicts what looks like a zebra but which has a giraffe's colour and markings – like this fantastic creature, Spirit encourages us to take on other people's perspectives in order to understand them better and resolve the argument.
When people feel heard and understood, fights end much faster.
BE ADVISED: YANG. And the Oracle takes us full circle to the Chariot, the first card in this reading! Yang represents active masculine energy, the power of initiating change and manifesting one's destiny. Charge!!!
Have a great week ahead!
*          *          *          *          *
Seeking assistance from Spirit for love/career/your future, energy healing for people and spaces, or pet communication?
CLICK HERE for more information about my services.
CLICK HERE to make your booking. Please note that advance payment is compulsory and unpaid bookings will be cancelled.
CLICK HERE to submit a Contact Form if you have further enquiries.
Or e-mail: [email protected]