Kelly is a psychic medium and channel. She offers Tarot readings, animal communication sessions, energy healings, and other lightwork services. She is based in Singapore.
Hot enough for ya? The energies of June 2018 so far have been hot and high, to say the least. If you check out my monthly video reading, The TAO of Kelly June 2018 (click to watch), you would've noticed that the Angel card (in particular) gives us a heads up for some pretty intense developments – go watch it and subscribe to my little channel if you'd like!
Okay let's get to this week's reading!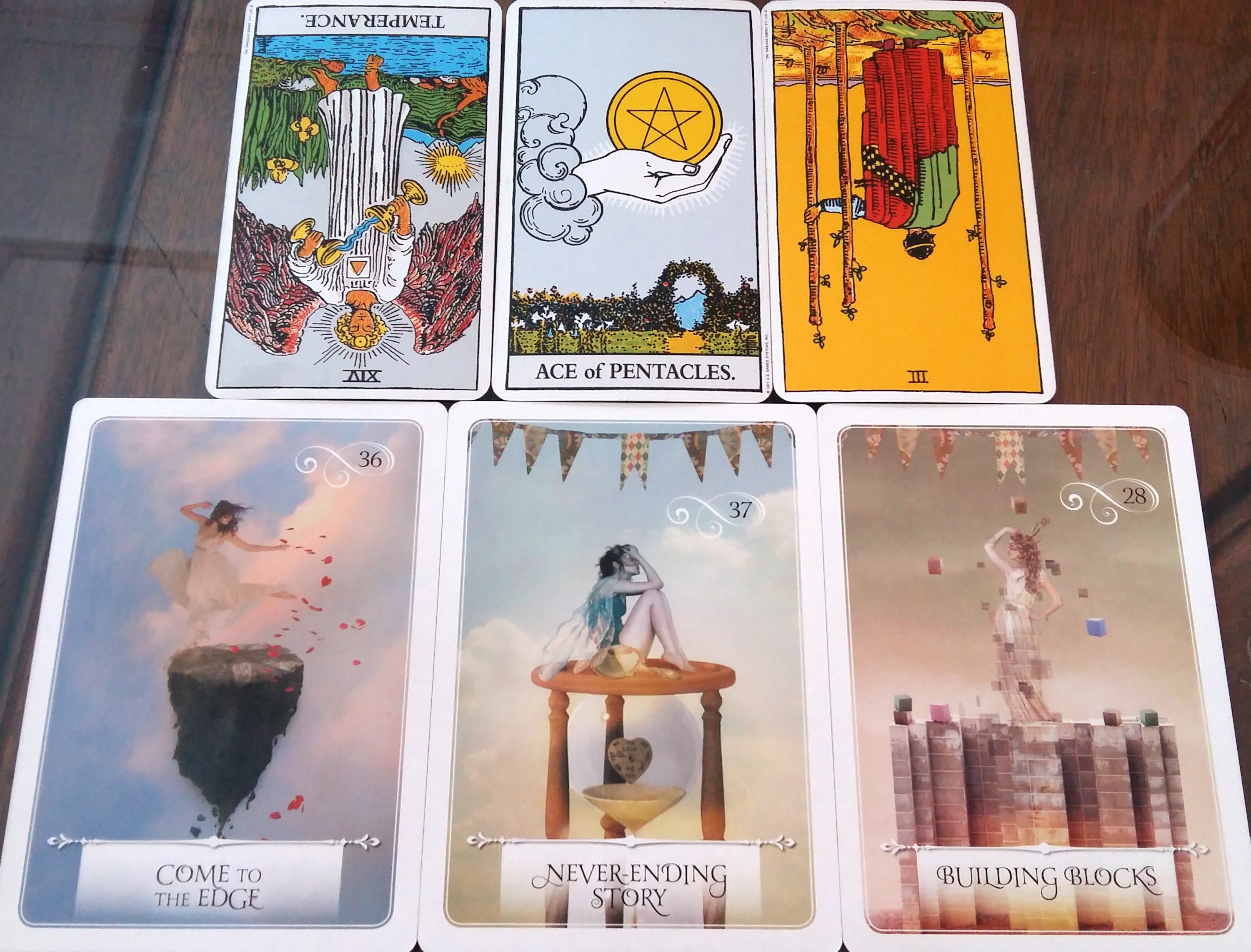 TAROT
LEFT: TEMPERANCE REVERSED. When this card appears ill-dignified, something in your life is out of balance, and it's on you to restore equilibrium as well as you can. You may not be able to restore things to a state of perfection, but that's okay. What works: making the effort to listen to other viewpoints without judging. Holding space for compromise. Accepting what is less than ideal for now, and working patiently towards what is.
MIDDLE: ACE OF PENTACLES. Keep on with the patient balancing act of Temperance reversed, and the energies of this card will manifest for you. The Ace of Pentacles represents the seed of accomplishment – perhaps as yet unseen – quietly taking root in the ground of your endeavours. It's a great card to get, and indicates that the future looks bright if you take the right actions now.
RIGHT: THREE OF WANDS REVERSED. Here's the caveat, and it's easy enough to follow – stick to your lane. Work on yourself, and mind your own business. This is not the time (yet) for expanding into new territory. Till your own ground and sow your own seeds. Disengage from other people's drama (I'll talk about that a little later with the Oracle reading).
Invest in your own greatness, bbs.
*
WISDOM OF THE ORACLE
LEFT: COME TO THE EDGE. Invest in your own greatness – that's the final word from our Tarot reading, and the Oracle picks up from where that left. Don't worry about other people. Channel all your energies into yourself; take a chance on YOU. When this card appears, Spirit invites you to explore your own possibilities. Trust the Universe for opportunities to come your way to develop your potential.
MIDDLE: NEVER-ENDING STORY. While you're hard at work on the task on making yourself more and more awesome, be mindful of the narratives that you co-create and that you allow to construct your own reality. Consciously choose only narratives that are wise, loving, true, beneficial, and empowering. Avoid anything that smacks of insecurity, control, and drama. Detach from gossips, saboteurs, and petty people. Keep your hands clean and your story wholesome.
RIGHT: BUILDING BLOCKS. This card carries a similar energy to the Ace of Pentacles in the Tarot. It's the vibe of constructing solid foundations for an amazing future. You have two cards in this spread that assure you of blessing, bbs. Stick to the advice you've been given, and you'll be golden.
Have a great week ahead!
* * * * *
Seeking assistance from Spirit for love/career/your future, energy healing for people and spaces, or pet communication?
CLICK HERE for more information about my services.
CLICK HERE to make your booking. Please note that advance payment is compulsory and unpaid bookings will be cancelled.
CLICK HERE to submit a Contact Form if you have further enquiries.
Or e-mail: [email protected]