Kelly is a psychic medium and channel. She offers Tarot readings, animal communication sessions, energy healings, and other Spiritual services. A priestess to Guan Yin, the Goddess of Mercy, Kelly is based in Singapore.
This week's big event in the skies: a New Moon in the mutable water sign of Pisces on 13 March.
This is a good time for lovers and dreamers. Around this time, the Moon forms a conjunct with Venus (Lady of Love and Beauty) whilst the Sun forms a conjunct with Neptune (Lord of Illusion and Creativity). By all means, celebrate love in its many forms – but remember to keep yourself grounded and practical as well. Try not to put people on a pedestal, and establish firm, respectful boundaries with others (no matter how much you really, really like them).
And on to the reading!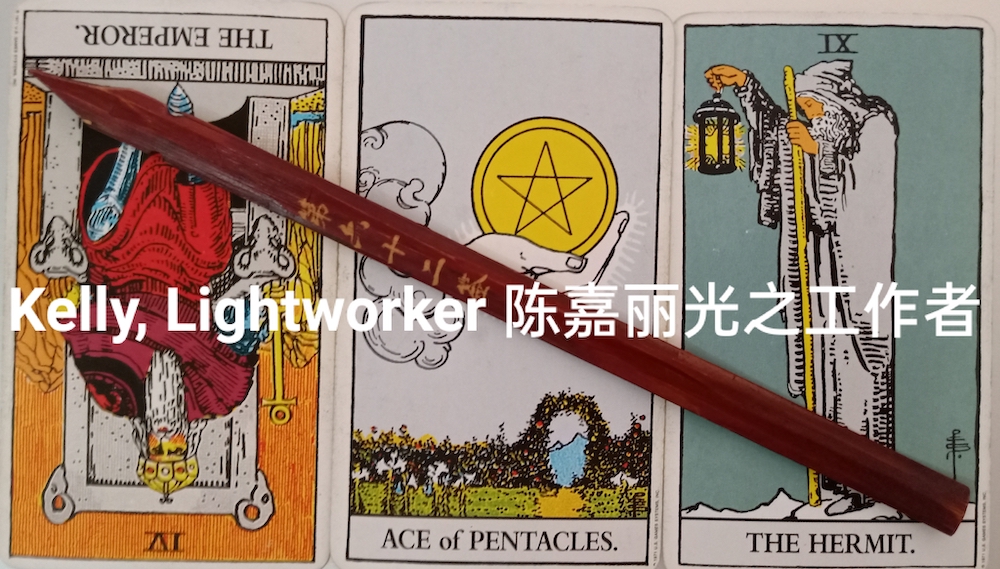 TAROT
LEFT: THE EMPEROR REVERSED. Have certain roles and responsibilities been left out of your considerations? Have certain dynamics or situations led to a loss of power? If so, it's time to pick up the slack. The reversed Emperor speaks of a need to step up to the plate and take control.
This card can also refer to a person who could play a role in this week's events. Look out for someone who's either a bit of a control freak, or who has a tendency to disappear/deflect when work gets intense. Make sure this person isn't you.
Lastly, the reversed Emperor sometimes refers to hidden power and authority – a situation where a Higher Power could intervene, but without you noticing. The Goddess divination lot below offers more details.
MIDDLE: ACE OF PENTACLES. Despite the challenges that can arise when responsibilities aren't taken seriously, opportunities are still present if you're willing to take them. The Ace of Pentacles represents an offer of career progress or financial prosperity. Although the Aces in the Tarot only signify the energy of potential, they're still incredibly powerful. Be on the lookout for open doors, and get ready to make your move.
RIGHT: THE HERMIT. With the energy of new possibilities that the Ace of Pentacles indicates, you could be facing the closure of a previous cycle as well. That's totally normal – endings and beginnings tend to come together. Some time on your own would be good. Take a breather to reflect on what you've learnt and experienced in this current cycle. Moving forward, what are you eager to embrace – and what are you willing to release?
*
GODDESS GUAN YIN DIVINATION
LOT NUMBER: 62
第六十二签
晨昏传籁佛扶持
须是逢危却不危
若得贵人相引处
那时财帛亦相随
Day and night, may your prayers to the Divine be your support.
Dangers we may meet, yet we shall avert them all.
Guidance and support from a benefactor
Will bring you prosperity and all you desire.
(Trans. Tan Kelly)
When this lot is drawn, there is a chance that you'll be facing a stressful situation in the coming weeks. However, the presence of Divine protection (albeit in hidden or unexpected ways) will ensure that you avert crisis. What is important is that you draw near to the Divine, to your Higher Self, to the Universe, to whichever Higher Power you subscribe to – and place your trust in the highest good.
Hang in there. The traditional meaning of this lot states that 神佛暗佑之象。凡事忍耐大吉也。You are Divinely protected without your knowledge. In all things, forbear with patience, and great good fortune will come.
I like how optimistic the interpretation of this lot is, despite its recognition of the challenges ahead:
平平稳稳 四方名显 改旧从新 亦无凶险
Do not be deceived by the apparent difficulty of the challenges you face. This lot assures you that your situation is stable, and so is your reputation. Even if the need for change were to arise, you can make the necessary shifts without incurring the risk of danger.
Have a great week ahead!
* * * * *
Seeking assistance from Spirit for love/career/your future, energy healing for people and spaces, or pet communication?
First, CLICK HERE for my client + booking policy to ensure I'm the right Lightworker for you.
Then, CLICK HERE for more information about my services and to make your booking.
General Enquiries: [email protected]
Public & Private Event Enquiries: [email protected]
中文版本
这周的重大星象就是3月13日的变动水象星座的双鱼新月。
这对于情侣们和爱做梦浪漫的人们来说可是个好时机。在这时段,月亮会与代表着爱和美的金星形成合相,太阳则会与代表着幻象和创意的海王星形成合相。大家可以尽情地庆祝所有形式的爱,但是要记住还是要保持理性和实际的态度。尽量不要把人供上神台,不论你多么喜欢一个人也要懂得尊敬他的界限。
【左:皇帝(逆位)】
你是否在某些职责中缺乏担当?是否有什么情况或者互动导致了权力的流失?如果是的话,是时候振作起来了。逆位的皇帝提醒你要有所担当并且掌握控制。
这张牌也可指向一位在这周里会扮演着一定角色的人物。要注意是否有什么人的掌控欲特别强或者是当事情进入紧张状态的时候反而会搞消失。要注意别让自己成为这个人物。
最后,逆位的皇帝有时候也可指向那些隐藏的权贵。也就是一个情况里会在你注意不到的地方发生受到更高的力量介入。下面的观音灵签可提供更多的细节。
【中:金币1】
当责任没有被认真对待的时候,我们都会面临许多的挑战,但是这部表示没有机会。机会还是有的,只要你愿意去争取。金币1代表着事业或者经济蓬勃发展的机会。虽然塔罗的一号牌示意着机会的能量,但是它们还是非常强大的。近期可多注意上门来的机会,然后准备好行动。
【右:隐者】
随着金币1带来的新机会的能量,你同时也可能在面临着上一个循环的结束。这是正常的。有开始自然就会有结束。有时候自己一个也是好的。深呼吸回想一下自己在这个循环里学习和体验了什么。在通向未来的道路上,你又期待着什么,和你愿意放弃什么。
【观音签:第六十二签】
晨昏传籁佛扶持
须是逢危却不危
若得贵人相引处
那时财帛亦相随
这支签的出现意味着在接下来的日子里你可能会面临压力重重的局面。但是神灵的庇佑(不明显的)可确保你能够安然度过灾难。重要的是你必须亲靠神灵,你的更高的自我,宇宙或者是任何你所信仰的更高的存在和力量。要相信。
要加油,这支签的解曰说着:
神佛暗佑之象。凡事忍耐大吉也。
这支签虽然承认着前方的各种挑战却依然乐观:
平平稳稳 四方名显 改旧从新 亦无凶险
不要被你面对的困难欺骗。虽然看起来似乎充满着障碍,但是这支签保证你你的情况是稳定的,你的名声也一样。即使你会需要做出改变,你也可以不涉险地完成必要的改变。
祝各位有个愉快的一周!