Kelly is a psychic medium and channel. She offers Tarot readings, animal communication sessions, energy healings, and other Spiritual services. A priestess to Guan Yin, the Goddess of Mercy, Kelly is based in Singapore.
Depending on where you live in the world, this week's partial lunar eclipse in Cancer will occur on 10 or 11 January. In Singapore, it will occur on 11 January (11:07 – 5:12 am Singapore time).
As far as the astrology goes, this eclipse is going to be challenging AF. What a way to start the new year, huh? But the greatest adversities yield the sweetest rewards, so let's move forward with courage and wisdom, love and light. Don't be afraid!
What's the lunar eclipse astrology, Kelly? I'm glad you asked. As mentioned earlier, the lunar eclipse occurs in Cancer, that Cardinal Water sign which is ruled by… the Moon. So basically the Celestial Crab is stuck in deep mud because its ruler's energies are on its home turf, but blocked.
The inherent energetic frustration of this eclipse is elevated by the fact that there's a stellium in Capricorn, Cancer's opposing sign, right now. Therefore, this lunar eclipse is in opposition to Mercury, Pluto, and Saturn. Jupiter is not in direct opposition to the lunar eclipse but is still in Capricorn, and close enough for its expansive energies to boost the already chaotic tensions here.
This lunar eclipse can facilitate the recurrence or worsening of mental illnesses: watch out for depression, anxiety, psychotic episodes, disordered personalities, et al. The emotionally vulnerable are likely to experience deep feelings of guilt, shame, and loneliness; this can exacerbate obsessive and addictive behaviours. Relationships and family issues come under the spotlight, and can become the source of intense conflict.
Honest self-care is key to getting through this eclipse.
You've probably heard me explain before that eclipses are the Universe's way of pressing the reset button on a lot of things. How this happens: the energy of eclipses tends to bring out that which is hidden – the Shadow Aspect that exists within every individual, group, and/or organisation.
Eclipses let out the skeletons in all our closets. Faced with the qualities we don't like to confront, we're pretty much made to choose which path we'll take: ignore the darkness and hope it goes away? Or deal with the darkness and take our lives to a higher level?
Oh, and before you think to yourself Nah, I'll just do what I've always done, the eclipse only lasts a couple of hours anyway, let me inform you that the effects of eclipses can last anywhere from a couple of weeks to SEVERAL YEARS after the eclipse, depending on your birth chart.
By taking care of yourself and dealing with issues in an honest, loving way, you greatly increase your chances of healing and moving forward, as well as boosting your quality of life in 2020.
Let's get to the reading!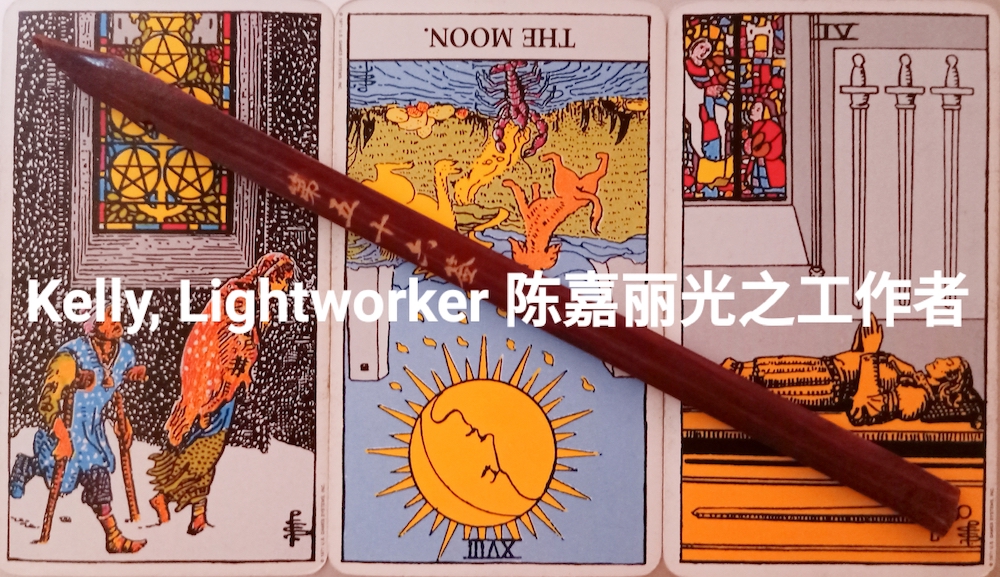 TAROT
LEFT: FIVE OF PENTACLES. This card represents deprivation, loneliness, and lack. A challenge has arisen that threatens your peace of mind over the practicalities of living. Finances, health, career, and significant relationships appear to hang in the balance.
But look carefully at the Five of Pentacles, and you'll notice that the two beggars depicted in this card are walking past a stained glass window of a posh building – possibly a church. So close, yet so far from help and comfort.
The Number Five, in numerology, represents the energy of adversity that can be overcome simply by reaching out a hand, either to offer or to receive help (four fingers + one thumb = Five). Could you be closer to the solution than you think?
You may not be feeling so great about something in your life right now. The Tarot is gently asking you what you've done about it… or have you simply assumed that solutions don't exist, and given up the fight?
Where is that person who used to dream dreams and build hope for the future? Where is that person who had plans, insights, solutions? The person who had the courage to be open and vulnerable and ask for help, advice, anything? You either used to be like that, or you know you can be like that – brave, strong, and free.
What happened? You may or may not know. But whatever happened in the past, that's over. The New Year has just begun. 2020 is here. The Universe is asking you to step up.
Now is the time to be objective about your situation, and proactive about addressing it.
Reach out. Take action. Get help if needed.
The only way to fail is to give up. You've got this. You can do it.
MIDDLE: THE MOON REVERSED. The most obvious interpretation for this card is a reminder that the partial lunar eclipse could possibly cause some disruptions. Seated at the heart of this week's Tarot reading, I would add that the reversed Moon speaks of releasing illusions and delusions, detaching from emotional extremes, and gaining clarity.
It could be that the challenging situation you're facing is more an issue of perspective than a reflection of reality.
Eclipses are a great time to set the intention that you will release self-limiting beliefs, and let go of whatever holds you back from your true potential. Let this week's eclipse energies provide that much-needed boost for you to break free.
Having said that, think carefully before making huge decisions this week. Not that you can't or shouldn't, but The Moon usually appears as a reminder to fact-check everything before you set something in motion.
RIGHT: FOUR OF SWORDS. If you've been worrying and over-thinking a situation to the point of exhaustion and numbness, this card is for you. Take a break – you are in desperate need of a timeout.
This card can sometimes indicate a time of illness arising as a result of excessive mental strain. It also implies that not everything you're worried about is necessarily a reflection of reality.
This week's Tarot reading consistently addresses the theme of perspective versus reality. Some of you reading this would benefit from a good rest, and an objective re-assessment of the situation you're facing.
The New Year is here. It's a good time to try out new ways of doing things. Leave worrying and over-thinking behind you, and implement different approaches to the situation you're facing. This is a Swords card, so the focus here is on how you think, make decisions, communicate, and manage stress/conflict.
*
GODDESS GUAN YIN DIVINATION
LOT NUMBER: 56
第五十六签
滩小石溪流水响
风清明月贵人忙
路须借问何方去
莫取林中花草香
The stream flows, the breeze blows;
The moon is radiant.
The noblemen admire the scenery.
But seek out your own path,
And do not linger amongst such sweet distractions.
(Trans. Tan Kelly)
I find it very interesting how even this week's divination lot mentions the Moon! Repetition is Spirit's way of drumming an important message into our heads, so do be mindful of this week's eclipse, and practice self-care.
This week's divination lot is a call to focus and press on with the endeavours you have begun. You may be tempted to procrastinate, or even deny the existence of a problem – don't. You know what you need to do, so do it. And if you don't know, then your task is to figure that out!
When this lot appears, the great things you wish to accomplish are possible, but they will also take great effort. Now is not the time to be fooled by distractions, or compare yourself to the noblemen admiring the scenery.
Yes, it may seem that other people have it easy while you need to slog constantly. No, it's not a good idea to slow down and start imitating them in the hope that you'll be successful like them. No, it's definitely not a good idea to resent them or pity yourself. And YES, if you are willing to keep forging your own path ahead, soon you will have your own cause to celebrate.
Time is of the essence. Whatever you need to do, do it now.
Focus on your path. Move forward.
Happy New Year 2020, and have a great week ahead!
* * * * *
Seeking assistance from Spirit for love/career/your future, energy healing for people and spaces, or pet communication?
CLICK HERE for more information about my services.
CLICK HERE to make your booking. Please note that advance payment is compulsory and unpaid bookings will be cancelled.
CLICK HERE to submit a Contact Form if you have further enquiries.
Or e-mail: [email protected]
中文翻译
这周的新加坡时间1月11日(时间11:07 – 5:12)将会迎来巨蟹座的部分月食。从星相学角度来看,这次的巨蟹月食将会是充满挑战性的。但是在历经过逆境后结出来的果实将会更加甜美,因此各位不要害怕,以智慧,爱与光勇敢地前进吧!
这次的月食将会在被月亮统治的水象星座,巨蟹座。因此这位螃蟹将会因为其主宰行星虽然身处主场却被阻挡而深陷在淤泥之中。
这股固有的能量挫折还会因为正对着巨蟹座的对立星座,魔羯座而有所提升。这次的月食和水星,冥王星以及土星都形成了对立,木星虽然并没有和之前三个行星一样形成对立状态,但是依然处在在魔羯座中,其近距离足以将它的扩展能力把原本就很紧张的这股能量给扩张。
这次的月食会促成精神方面疾病的复发或者恶化,这就需要各位多加留意自己身边患有忧郁症,焦虑,精神病困扰或者精神障碍等的人们了。情感方面比较脆弱的人们可能会感受到深沉的内疚感,羞耻感和孤独感,这也可能会加剧其痴迷或者任何上瘾的表现。焦虑可能会集中在家庭或者人际关系的话题上,并且可成为造成冲突的导火线。
要相安无事地度过这次的月食,重点就是你必须要对自己有着真诚的自爱。
我曾经提及月食/日食等时期往往是宇宙按下重启按钮的时候。日食能量会把那些原本被隐藏起来的事物,如一个人或者团体组织的阴暗面揭发出来。藏于黑暗中的事物将会被拖到阳光下,我们会被迫去面对那些我们不喜于去面对的,并且也会被逼迫选择要走的道路。那么各位究竟是想要逃避黑暗并奢望它会自行消失,还是要勇敢面对并让自己的生活有所升华呢?
切勿因为月食只是几个小时的事而妄想能够什么都不做,因为这股能量的影响会持续几个月甚至是几年的时间。若你选择了以真诚和爱来好好照顾自己和面对问题,那么你获得疗愈的机会将会大大提高,并在你前进的时候为你的生活提高品质。
【左:金币5】
这张牌代表着被剥夺,孤独和缺失感。你会遇上一项会影响你实质生活的挑战,这可是健康,经济,事业或者重要的人际关系方面受到影响。
请各位仔细观察这张金币5,你会发现图中的两个乞丐正走过一座有着彩色玻璃充满气派看似是一间教堂的建筑物,仿佛救赎就近在眼前却又感觉如此遥远。
在数字学里,5代表着一股逆境里可被扭转的能量(四只手指加一大拇指等于5),只要你求救或者伸出援手就行了。或许解决问题的方法其实比你想象中的还要接近。
或许目前生活里你正为一些事情感觉不太好,塔罗在这里温柔地问你是否有针对事件的解决而采取过任何行动,还是你因为觉得自己没有希望所以就放弃了?
那位充满梦想并且会为其努力打拼的人呢?那位拥有向人讨教的勇气的人在哪里?或许你曾经是这样的人,或你明白自己其实可以成为这位勇敢自由的人。
不论你是否知道自己究竟发生了什么事,过去的就让它过去。随着新一年的到来,宇宙鼓励你要有所行动。现在正是客观面对并且实际处理你的处境的时候。如有需要不妨去向人求救,毕竟什么都不做的话才是真正意义上的失败。
【中:月亮(逆位)】
这张牌最直接的解读就是提醒大家这次的月食会造成的一些干扰。月亮正好处于这次牌面的中心,我会说逆位的月亮同时也诉说着关于解放迷惑和得到清晰的理解。
你所面临的挑战实际上可能是看待角度的问题,现实情况可能并非你所想的样子。
月食/日食的时段是适合让你许愿放开那些局限自我的想法的好时机,就让这周的月食能量帮助你突破和解放吧。
话虽这么说,凡事还是务必要先三思而后行哦。
【右:宝剑4】
如果你正为了一件事困扰到寝食难安,那么这张牌的提醒就是给你的。这时候不妨就好好地歇一歇吧,你真的很需要休息。
这张牌可表示因为精神方面承受了莫大的压力而导致生病等问题,同时也表示着并不是每件事都需要你如此操心的,因为其现实可能根本没有你所想的那么糟糕。
这周的塔罗一直都在持续提醒着我们关于看待角度与现实之间的差距和主题。要好好地修养身心后才能够客观地看待一些事物。
在这新的一年里,不妨可以试试用新的方法来做事,把所有的忧虑都抛在脑后吧。这是一张宝剑牌,因此重点就在于你如何思考,做出决定,沟通和处理压力以及冲突。
【观音签:第五十六签】
滩小石溪流水响
风清明月贵人忙
路须借问何方去
莫取林中花草香
请各位注意了,这周的观音签里也提到了月亮。在灵学里,像这样一直被重复着的信息就表示其信息是必须要受到重视的。各位请务必要好好地自爱和留意这周的月食动向。
这周的观音签提醒着你必须要专注在自己开始追求的目标上并且努力不懈地坚持下去。你可能会觉得自己想要逃避或者否认任何问题阻碍的存在,请切勿这么做。
这支签表示你所希望能够达成的目标是很有成功的可能的,只是你会需要付出很多心力,所以现在不是让自己受到干扰的时候。
也许你看着一些人会觉得他们似乎活得比你轻松,因为你不论做什么都必须付出巨大的努力才能得到自己想要的。可是现在不是停下脚步试图经过模仿他人以期望能够获得成功的时候,更绝对不应该去嫉妒他人或则陷入自我怜悯。只要你愿意付出努力,那么庆祝你的成就的日子也不会太远了。
时光宝贵,请切勿浪费了。