Kelly is a psychic medium and channel. She offers Tarot readings, animal communication sessions, energy healings, and other lightwork services. A priestess to Guan Yin, the Goddess of Mercy, Kelly is based in Singapore.
<<CLICK HERE FOR CHINESE TRANSLATION 中文翻译>>
The Lunar New Year is upon us – it's the year of the Earth Pig too! Chinese astrology is not a Spiritual modality that I would claim to be an expert in, but from what I understand, this is a great year for family and relationships. The Pig is a domesticated animal, intelligent and affectionate; its loyal and loving ways facilitate conducive energies for marriage, childbirth, and investment in property (also because it's an Earth year). I'm looking forward to this lunar year!
On to the reading! From the looks of it, this is a week to conserve our energies.
/stuffs pineapple tarts in my mouth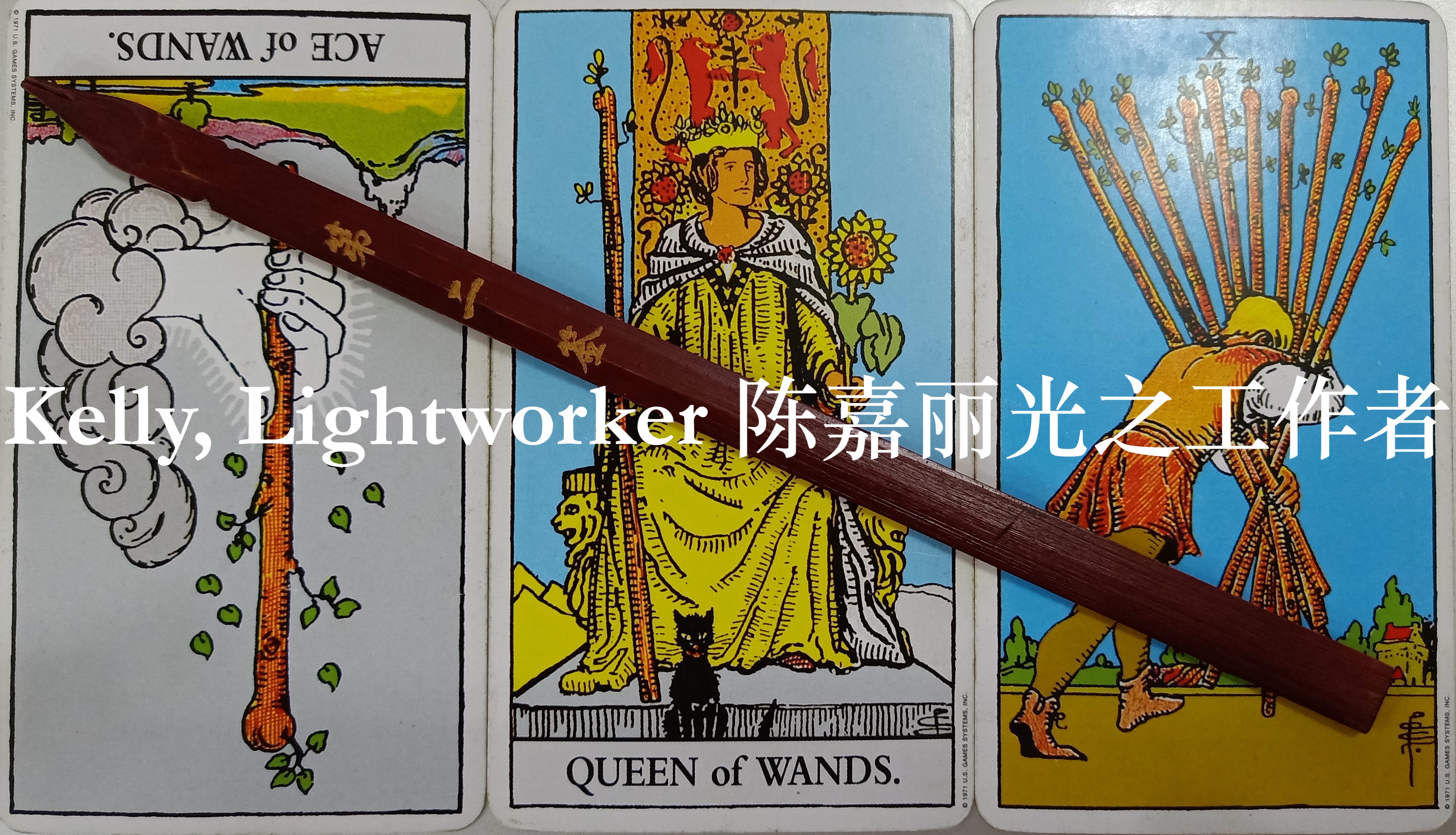 TAROT
LEFT: ACE OF WANDS REVERSED. The Ace of Wands is usually an exciting card to get, representing the potential of new ventures, creative pursuits, relationships, etc. When it's reversed, you're not likely to get the outcomes you want by striving, so don't. The reversed Ace of Wands speaks of setbacks, obstacles, and a need to manage our expectations. This might not be the best week to push for that deal or ask your crush if they'd like to hang out.
That's Not a bad thing – why not conserve your energy for a better time?
MIDDLE: QUEEN OF WANDS. This card encourages us to be confident, to strut our stuff, to know that we deserve the best. It's also a subtle warning to stay away from drama queens and bitchy relatives (those of you going for New Year visits  this week will know what I mean). Having said that, there will also be good people keeping an eye out for us (the Queen of Wands often refers to a friend, mentor, or strong person in your life who is helpful and encouraging). So it's not bad at all!
Notice the Queen of Wands just sits on her throne, holding her wand of power, staring into the distance, her faithful black kitty seated before her. In this reading, she's looking mighty relaxed.
Let's take a cue from this queen, sit back, and watch the world go by for a bit.
RIGHT: TEN OF WANDS. This is the Burnout Card – no two ways about it. So much is going on that you're barely keeping one foot before the other along your weary path. It's time to look up and around you – a higher perspective (and some much-needed rest) will do wonders.
Beware the decisions you're making at this time – with the Ten of Wands, it's likely you're focusing on details too much and missing out on the big picture.
*
GODDESS GUAN YIN DIVINATION
LOT NUMBER: 2
第

二

签
鲸鱼未变守江河
不可升腾更望高
异日峥嵘身变化
许君一跃跳龙门
The young whale lies low on the river bed.
Noble One, do not aim too high for now.
One day you will come into the fullness of your power;
Then, in one leap you will clear the Dragon's Gate.
(Trans. Tan Kelly)
In the same vein as the Tarot, this week's Goddess Divination reading urges us not to rush something that isn't ready. If the time is not now, then wait, and forebear the inconveniences of waiting. But trust that your patience will pay off – there is great power within you if you're willing to acknowledge and take responsibility for it. For now, bide your time and be flexible with expectations.
Align yourself with the highest and greatest good. Let the Divine guide you in all your ways.
Your day will come. the goddess promises you this.
Btw, have you checked out my reading for the month of February 2019 yet? CLICK HERE for the TAO of Kelly, February 2019, where I suss out the month's energies so you can make the best choices for your life, moving forward!
Have a great week ahead!
*          *          *          *          *
Seeking assistance from Spirit for love/career/your future, energy healing for people and spaces, or pet communication?
CLICK HERE for more information about my services.
CLICK HERE to make your booking. Please note that advance payment is compulsory and unpaid bookings will be cancelled.
CLICK HERE to submit a Contact Form if you have further enquiries.
Or e-mail: [email protected]