Kelly is a psychic medium and channel. She offers Tarot readings, animal communication sessions, energy healings, and other Spiritual services. A priestess to Guan Yin, the Goddess of Mercy, Kelly is based in Singapore.
The day to watch out for is Mercury conjunct Neptune on 3 or 4 April, depending where you live in the world. When Mercury (planetary ruler of thought and communication) conjuncts Neptune (planet of creativity and illusion), gear up for creative solutions and imaginative strategies that could take your life to another level. However, you'll also need to be careful – in the hands of unscrupulous or susceptible people, the energy of this aspect also heightens the risk of scandal, lies, and gossip. Keep away from the backbiters – with lockdowns going on in so many places, it shouldn't be too difficult.
Onward with the reading!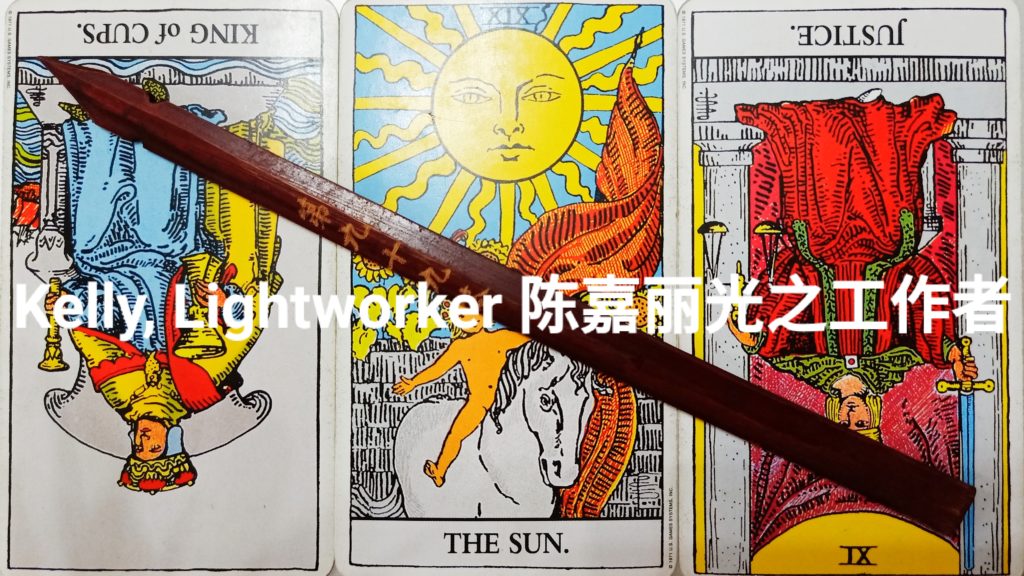 TAROT
LEFT: KING OF CUPS REVERSED. The seas are stormy – but keep calm and hang in there. The reversed King of Cups can represent a time of emotional turbulence. It can be difficult to take charge of matters when the heart is not aligned with rational logic, but don't use this as an excuse to run away (this card can be associated with escapist fantasies, addiction issues such as alcoholism, and co-dependent relationships).
Be strong. Take a step back and breathe if things are getting too intense. But whatever it is, never lose your link to your heart and soul. Hold on to the truth of who you are. Practice compassion – be kind to yourself and to others.
Some of you might meet a person who could play a role in this week's events – this person could be either emotionally unavailable or controlling. Don't fall for their games.
MIDDLE: THE SUN. Snug as a bug in the middle of this reading, The Sun is my favourite Tarot card to see. Representing joy and success, The Sun in this reading also speaks of gaining clarity in a situation that was causing emotional turbulence (see reversed King of Cups).
So don't worry if things seem unsure right now – they're about to clear up very soon.
RIGHT: JUSTICE REVERSED. If you're facing a complex situation that requires a decision, Justice in reverse advises you to strategise wisely. Don't rush into anything without a plan.
This card also indicates that some form of karmic realignment will be meted out soon. It may or may not appear fair, but trust that in the bigger scheme of things, the Laws of Karma are sound. Some of you will rejoice. Some of you are going to get burnt very badly.
All this is a reflection of who you are and what you choose to allow in your life. It is what it is.
*
GODDESS GUAN YIN DIVINATION
LOT NUMBER: 99
第九十九签
勒马持鞭直过来
半有忧危半有灾
恰似遭火焚烧屋
天降时雨荡成灰
Whip in hand, the horse-rider charges ahead,
Danger and disaster on either side.
Like a house set on fire,
Heaven sends a timely rain to reduce all to ashes.
The theme of emotional turbulence + complex situations continues in the divination lot for this week. Heaven looks kindly on us and the difficulties we struggle with now – but be careful that you are not creating negative karma by doing the wrong thing.
Screw that New Age bullshit about "there's no such thing as right or wrong, all is one, your free will is paramount". Seriously. If there's a virus going around and some people are still defying common sense, basic hygiene, or social responsibility – that is negative karma and will create really, really crappy consequences in the future. Don't let it be you.
Do the right thing. The good thing. The wise thing. With lot 99, expect the unexpected – both positive and negative things are going to happen – and it's your karmic record that will determine how the Universe will step in to co-create your destiny with you.
Your job is to show up and do what's right.
Have a great week ahead!
* * * * *
Seeking assistance from Spirit for love/career/your future, energy healing for people and spaces, or pet communication?
CLICK HERE for more information about my services and to make your booking. Please note that advance payment is compulsory and unpaid bookings will be cancelled.
General Enquiries: [email protected]
Public & Private Event Enquiries: [email protected]
中文版本
这周的重要星象就是在4月3日或者4日(以你目前的地理位置为准)的时候,掌管思想与沟通的水星就会和代表着创意与幻象的海王星形成合相。这股能量将会为你带来让你的生命能够更上一层楼的创新解答以及充满了想象力的策略。与此同时你也必须要提高警惕。因为这股能量在落入不法之徒和居心不良的人的身上的时候,诈骗,谎言与是非等的发生几率将会提高。因此请各位要远离小人和爱惹是生非的人们。以目前众人都受到隔离的期间,这应该不是太困难的事情。
【左:圣杯国王(逆位)】
在你面前的情况或许看起来是惊涛骇浪,但是请你要保持冷静坚持下去。逆位的圣杯国王可代表着一个情绪动荡的时期。当你的心无法与理性逻辑取得共识的时候,在做事和做出抉择方面难免会让你感觉到困难重重。可是千万不可以把着当成逃避的藉口。这张牌同时也可以指向逃避心理,过度的互相依赖的关系,甚至是上瘾之类的问题。
请各位要保持坚强。如果事情让你觉得无法负荷,就不妨退一步让自己先喘口气吧。不论发生什么事都不要失去你的心与灵魂的连结。保持真实的自我和恻隐之心,以善意来对待自己和他人。
有些人在这周里可能会遇到一个冷漠或者有强烈控制欲的人,这个人会扮演着一定性的角色,要小心别陷入他们的布局之中。
【中:太阳】
太阳是一张我很喜欢的牌。代表着快乐与成功的太阳在这次的牌面中也代表了一个造成你情绪动荡的局面将会开始明朗化。
所以即使眼前的情况让你觉得看不到头也不用担心,因为迷雾即将散去。
【右:正义(逆位)】
如果你正面临着一个需要做出决定的复杂情况,逆位的正义告诉你必须要先好好地制定策略,切勿冲动行事。
这张牌也代表着某些因果报应的调和即将来临。不论看起来是否公平,要相信在一个更大的局面版图上,因果都是有理的。有些人会感觉到欣喜,有些人则会感觉非常难受。
这一切都是建立在你的真实和你自己本身所允许发生在你生命里的事情的基础上的。
【观音签:第九十九签】
勒马持鞭直过来
半有忧危半有灾
恰似遭火焚烧屋
天降时雨荡成灰
这周的观音灵签里继续着情绪动荡和复杂局面的主题。天总是怜悯地看着我们和我们所遭受的苦难,但是要注意的是别做坏事和因此种下恶果。
把那些所谓的"没有对错,你的自由意志是绝对"的新世纪思想全部丢弃。说真的,在疫情肆虐的当前,那些坚持不肯采用逻辑,基本卫生习惯和负起社会责任的人们只会招致将来对自己不利的恶果。别让自己成为这样的人。
做好事。做对的事。做明智的事。第九十九签出现的时候,要做好心理准备迎接不可预估的事情的发生。好坏都会发生,宇宙会如何与你共创你的命运就要看你至今的因果记录如何了。
祝大家游客愉快的一周!