Kelly is a psychic medium and channel. She offers Tarot readings, animal communication sessions, energy healings, and other Spiritual services. A priestess to Guan Yin, the Goddess of Mercy, Kelly is based in Singapore.
Depending on where you live in the world, jovial Jupiter – planet of luck, learning, and expansion – leaves its home turf of Sagittarius and enters stern, conservative Capricorn on 2 or 3 December. Jupiter will stay here in Capricorn until 18 December 2020, with Pluto (Lord of Transformation, ruler of Scorpio) and Saturn (Lord of Karma, ruler of Capricorn) as close neighbours for several months.
I'm sure you've heard this phrase before:
Where focus flows, energy goes;

what you focus on expands.
Jupiter's expansive energies will shine a spotlight (as if any more focus was needed, sheesh) on Capricorn's energies of stubborn practicality. Saturn, Lord of Karma, is on its home turf – Jupiter's proximity adds a boost to the efficacy of Karmic laws, so think twice before doing anything stupid. Pluto's presence will enhance the crash-and-burn effect of bad choices, and offer the opportunity for many to transform and rise – like the Phoenix, if they choose – from the ashes of folly and defeat.
If they choose.
There's a fate worse than death – it's called being stuck in a rut. At least death transforms. Even though it hurts, you move on.
Imagine being unable or unwilling to move on. Imagine going through the same shit, different day, every day – for the rest of your life.
Wouldn't you rather move – even if it might kill you?
Let's get to the reading!
TAROT
LEFT: DEATH REVERSED. There's a fate worse than death – in the Tarot, it's Death in reverse.
It's the desperate woman who's clinging on to false, shallow romances with emotionally unavailable people, so she can feel worthy. The employee who hates his current work with a passion, but is ambivalent about finding a new job. The teenager who realises all her friends are gossips and backstabbers, but doesn't dare leave her toxic clique.
If you're stuck in a rut, you need to ask yourself honestly if this awful situation is worth your continued suffering. No one is going to give you back the money, time, energy, and good faith you wasted on people and situations that do not care about you.
You need to ask yourself why you're stuck in limbo and how you're going to get out of this. Because you must. Life is all about flow; if you don't move, you're as good as dead.
Wouldn't you rather choose how you live (and die) on your own terms? When reversed Death appears, the message is urgent: no more excuses. Take back your power, accept the inevitable, and transform.
MIDDLE: ACE OF CUPS. Because Death is not the end – it is only a door, a passage that leads to new beginnings. The Ace of Cups represents a beautiful new beginning: it heralds emotional healing, spiritual growth, and great joy. Embrace the death of the old, and something beautiful and new will come.
In the traditional Tarot, the Ace of Cups was an omen of marriage, pregnancy, or childbirth.
Even today, the Ace of Cups is one of the most positive cards to get. Something new is arriving – let go of the old so you can embrace this new beginning with all your might!
RIGHT: NINE OF CUPS. What an awesome card to finish this Tarot reading! Kabbalists call this card The Lord of Contentment; when the Nine of Cups appears, be assured that your wishes can and will come true if you do the needful.
The Nine of Cups also represents a time of pleasure after a season of diligent, determined effort. Nine is the number of closures in the physical realm, so you'll need to put in the hard work if you want to get to this point. But when you do reach this stage in your endeavours, you'll be so glad you did.
Nothing beats the feeling of seeing your hard work bear fruit.
Check out the meme below! I love the look on the face of Elon Musk, Tesla's visionary CEO. This is Nine of Cups contentment in the 21st century.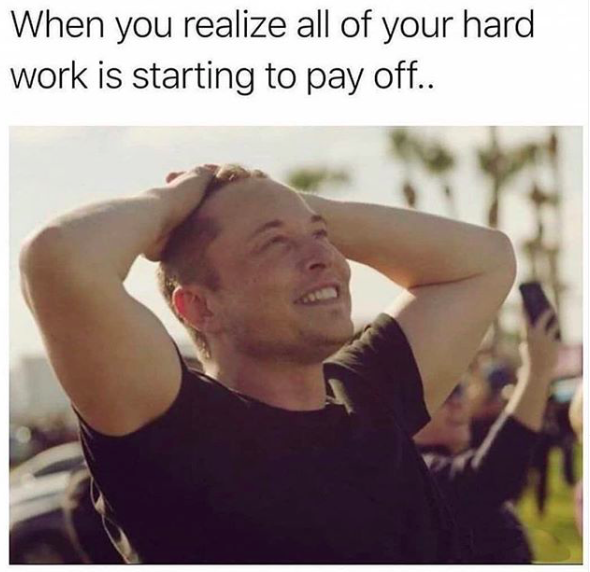 *
GODDESS GUAN YIN DIVINATION
LOT NUMBER: 61
第六十一签
日落吟诗月下歌
逢场作戏笑呵呵
相逢会遇难藏避
唱彩齐唱连理罗
By day, recite poetry;
By night, revel in song.
Don't take life so seriously –
Laugh and enjoy it!
Meeting soulmates is a rare pleasure;
Celebrate the joyous occasion.
(Trans. Tan Kelly)
I am convinced that one of the main reasons people can't move on in life is because they take themselves too seriously.
So many people are terrified of losing face, rocking the boat, what will everyone say, or whichever cliched metaphor is used nowadays as an excuse to chicken out of what they really want to do with their lives.
That's a pity. Because the truth is that no one actually cares all that much about the world beyond their own little issues.
The traditional explanation of this lot sounds simple enough on the surface, but it's a very apt reminder of what really matters in life. It states:
Since life is full of fortune and misfortune, take full advantage of chances and opportunities.

No one escapes the path of destiny.

When this lot is drawn, understand and work with the seasons of change around you. In all things, your good fortune arrives at the right time.

Guanyin Divination Lot 61: traditional interpretation
This lot states the benefits of taking action, being fully present in the moment, loving life and working hard to manifest your future goals and plans. It's a lot that speaks of appreciating the people and blessings in your life, in finding joy and refraining from pointless whining.
When lot 61 appears, you are advised to take back your power, embrace change, and move forward (reversed Death). Do whatever it takes to break through into your desired new beginnings (Ace of Cups). This lot also states that with time and effort, your wishes will come true, and your joyous contentment will be great (Nine of Cups).
Do not hesitate – whatever you must do, do it now, and keep going until you manifest your dreams. Why? Because, as the lot states, No one escapes the path of destiny.
There is one path of destiny that you don't need a psychic to tell you about. It's right there, the first Tarot card in this message.
Need me to clarify this path of destiny? Sure:
You will die.
Everyone dies.
Do not wait for Death to come for you before you've truly had a chance to live.
Whatever it is you want to achieve for your best life, DO IT NOW. And NEVER GIVE UP until you attain your goals.
Have a great week ahead!
* * * * *
Seeking assistance from Spirit for love/career/your future, energy healing for people and spaces, or pet communication?
CLICK HERE for more information about my services.
CLICK HERE to make your booking. Please note that advance payment is compulsory and unpaid bookings will be cancelled.
CLICK HERE to submit a Contact Form if you have further enquiries.
Or e-mail: [email protected]
* * * * *
中文翻译
在本周的12月2日或者3日(以你目前所处的地理位置为准),代表运气,学习和扩张的乐观的木星将会离开其守护的射手座,移动至严肃保守的魔羯座。木星会在这里持续待到2020年的12月18日为止,同时与代表着转变和守护天蝎座的冥王星,以及代表因果报应和守护魔羯座的土星为邻。
有一句话就是,当你全神贯注在某一个点上的时候,能量便会流往哪个方向。你所专注的将会扩张。
木星的扩张能量会专注在魔羯座的顽固实际性的能量上。因果报应之星的土星正处于它的主场中,木星的近距离将会加剧因果之律,因此在你想做出任何傻事之前请务必要三思。冥王星的存在将会提升因为自身的错误选择所导致的崩溃效果,但是也同时给予许多人置死地而后生的机会。只要他们做出决定,就能够如浴火的凤凰般重生。
深陷泥沼之中动弹不得是一种比死还可怕的命运。当旧有的死去后,转变便会到来。即使再痛苦,你也能够举步向前。
请试想如果自己陷入一股无法或者拒绝挣脱的无限循环中,难道你不会宁可玉碎也要摆脱这股绝望困境吗?
【左:死神(逆位)】
在塔罗里,比死神更可怕的,是逆位的死神。
如同深陷在一段肤浅无爱的关系中却始终不肯放手,就为了以此来证明自身价值的绝望的女人。或者是那个痛恨自己的工作却对于寻找新机会态度模棱两可的员工。甚至是那个明知道自己身边的朋友只会带来负能量却依然不敢离开的青年。
如果你正深陷在这个泥沼之中,你需要扪心自问这个苦是否值得。如果这群人或者情况根本不在乎你,那么你付出的钱财,时间,精力和信心都只会付诸流水。
你需要自我检讨自己为什么会深深地陷在这个混沌中,并且思考如何让自己振作然后离开。生命是川流不息的,如果你坚决不肯动,那么就只能被其淹没了。所以你必须要自己离开这个泥沼。
朋友们,难道你不想掌握自己生活的权力吗?逆位的死神代表着事情的紧急性,你真的不能再为自己找借口了。取回自己的力量,接受所有必然之事,然后蜕变。
【中:圣杯 1】
死亡并不是结束,而是通向新生的一扇门。圣杯1代表着美丽的新开始。这张牌带来的是情感疗愈,灵性成长和快乐。拥抱并接受旧有的死亡,美好的新生才会来临。
在传统的塔罗解释里,圣杯1是带来婚姻,怀孕或者生产的预兆。即使在今天,圣杯1也是你所能够抽到的好牌的其中一张。新的美好即将到来,唯有当你放下过去的时候才能迎接。
【右:圣杯 9】
圣杯9是一张总结这次牌面解析的好牌。卡巴拉主义者把这张牌视为心满意足的代表。圣杯9的出现代表了只要你有做出必要的行动,你的愿望是可以并且会实现的。
圣杯9代表着历经勤奋努力的季节后的快乐时光。9在实质次元象征结束的号码,因此若是你想抵达那一步,那么你就必须付出努力才行。当你真正来到这里的时候,你会很庆幸自己付出了努力。
因为没有什么比看着自己付出心血后得到回报更来得让人感觉满足。
【观音签:第六十一签】
日落吟诗月下歌
逢场作戏笑呵呵
相逢会遇难藏避
唱彩齐唱连理罗
我个人觉得,人之所以难以前行的其中一个原因,就是他们太过于把自己当回事。
有很多人害怕丢脸没面子,破坏某种平衡,太在意别人的眼光,或者是现代人爱用某些言词来掩饰自己其实是在逃避的诟病,这些人们都没有活出自己的勇气。这其实是很令人惋惜的,因为事实上,这个世界的人们其实更看重自己所面对的多过去在乎别人的问题。
这支签的传统解释看似如表面般浅显,但却更让人理解的是什么才是生命里最重要的。签中表示生命里总是会有福祸,因此应该懂得把握机会,因为没有人可以逃避命运。
当这支签出现的时候,要会理解和适应身边的季节变化。你的福报会在时机到了的时候降临。这支签诉说着行动的益处,活在当下,热爱生命和为了自己的目标而努力。这签提醒你要知足常乐,不要无故地怨天尤人。
第六十一签的出现,劝告你要取回自己的力量,接受变化和向前迈进(逆位的死神)。尽自己的能力来寻求突破以便前往你所期望的新生(圣杯1)。这支签也表明了假以时日当你的愿望经过无数努力实现的时候,会给你带来巨大的满足感(圣杯9)。
不要犹豫,应该做什么就去做,在你达到目的前别停下脚步。
因为这世上没有任何人可以逃避命运。
生命终有时,不管是什么人,最终都一定会迎来死亡的命运。
不要等到死亡造访后才察觉自己原来从没真正活过。
想要什么就极力去争取,在梦想实现之前都不要轻易放弃。
祝各位有个愉快的一周!