Kelly is a psychic medium and channel. She offers Tarot readings, animal communication sessions, energy healings, and other Spiritual services. A priestess to Guan Yin, the Goddess of Mercy, Kelly is based in Singapore.
The date to watch this week is 12 Jan (or 13 Jan, depending on where you live in the world): in a space of less than two hours, the life-giving Sun forms crucial conjunctions with Saturn, Lord of Time & Karma, and Pluto, Lord of Transformation & Shadow, in the Cardinal Earth sign of Capricorn.
Thus begins a powerful new cycle of change, growth, and karma. The months ahead will require courage, hard work, and the willingness to take on responsibility. Secrets are likely to be exposed, and those who have been involved in dirty business will find their luck, health, reputation, and finances depleting rapidly.
Under the auspices of these transits, some people will find their lives taken to a higher level of truth, honour, and power.
Some other people will simply fall apart.
When Capricorn energies are high, I've noticed that karmic repercussions tend to hit people where it really hurts: power and money. These are, after all, the areas that stern, pragmatic Capricorn rules.
Let's get to the reading stat!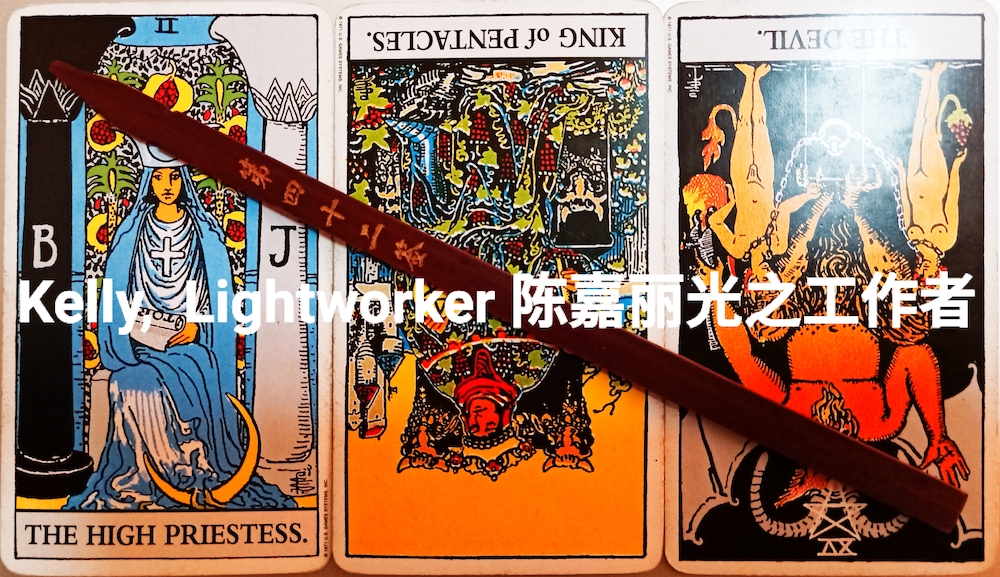 "I am sending you out like sheep among wolves. Therefore be as shrewd as snakes and as innocent as doves. Be on your guard…"

– The Gospel of Matthew, Chapter 10 Verses 16-17a (New International Version)
These were the words of Jesus as He sent out the first messengers of His Good News to the world. The Good News of Spiritual salvation, in a nutshell, is this:
True Spirituality comes from living a life that is authentic to your highest truth, and your connection with the Universe. You don't need an institution, a tradition, a guru, or even a doctrine. You are a spark of the Divine, and you have all the answers in you – if you're willing to search.
Did Jesus the Messiah tell His followers to be naive, fluffy, flaky New Age woo-woo types? Of course not. He told His disciples – and by extension, all of us who profess to be Spiritual – that we need to be pure-hearted but also strategically-minded, and to be mindful of our environment.
This is the crux of the Tarot reading for the week – once you get this wisdom, you've got the gist of it. Now let's get into the details.
TAROT
LEFT: THE HIGH PRIESTESS. Re-connect with your inner voice. The truth of who you are. Your Higher Self, your soul. When this card appears, you could be facing a situation where a lot is going on, and many voices are speaking. But there's only one voice you need to hear and obey, and that's the voice of your soul.
So cut through the BS. Take a step back from the noise and politics. Return to your pure Higher Self, and listen to your heart. You know what you need to do. You have the answers within you. Don't let anyone convince you otherwise.
When the High Priestess appears, make your plans and take action: wisely, intuitively, and secretly. Tell no one what your next steps are – the High Priestess is the holder of secrets. Be on your guard.
MIDDLE: KING OF PENTACLES REVERSED. The reversed King of Pentacles, in most mundane situations, usually is bad news. This card represents someone who over-promises and under-delivers. This is usually a man, but can also be a woman – whichever sex they are, they're irresponsible control-freak types who demand all the respect, but can't be trusted. Unfortunately, they're usually leaders, elders, managers, and/or figures of authority in large organisations.
When this card appears reversed, watch out – a person who matches the above description could play a role in how events turn out. You probably already know who this is.
But there's another level of interpretation that I want to bring to your attention: if you're facing a situation where things are getting ugly and you don't know who can be trusted anymore, then you will have to become the reversed King of Pentacles.
What the hell do you mean, Kelly? I'm glad you asked. The reversed King of Pentacles is, at their core, a person who cannot be trusted because they're really, really good at keeping up appearances.
If you're currently surrounded by snakes, this is what you might have to do.
Never compromise your integrity, of course! I'm not asking you to actually become a jerk. But be shrewd and strategic-minded; put your game face on. Show no weakness. Reveal no information that can be used against you. Look busy. Be productive, but tell no one what you're really up to. Deflect awkward conversation topics. Avoid gossips and backstabbers – the Suit of Pentacles prefers action to communication.
RIGHT: THE DEVIL REVERSED. This is one of the few Tarot cards that I prefer to see upside-down. The reversed Devil is an encouraging sign for many of us. It means that the very thing we fear, the bondage or obstacle that holds us back, is actually smaller and weaker than we think.
The reversed Devil is easily overcome. Understand that much of its intimidating facade is psychological. It's a reflection of your own inner fears – not an indication of your reality. Therefore do not be afraid, but take action to achieve your goals.
Re-connect with the powerful High Priestess within you, put on the shrewd game face of the reversed King of Pentacles…
Then kick the reversed Devil's ass.
And you will surely win.
*
GODDESS GUAN YIN DIVINATION
LOT NUMBER: 42
第四十二签
君皇圣后终为恩
复待祈禳无损增
一切有情皆受用
人间天上得期亨
You are blessed by royalty!
Honour is yours; no harm comes to you.
So are you graced by Divine favour.
Your life is blessed amongst men.
(Trans. Tan Kelly)
This is an Upper Lot, indicating Divine favour and blessing. It depicts the rare privilege of receiving desired outcomes via Divine intervention, and clearly indicates good fortune and achievement.
The traditional explanation advises the recipient of this lot to "remember gratitude to Heaven, by offering incense day and night". What this means in the modern-day interpretation: whatever blessing you receive – and make no mistake, you will certainly receive – pay it forward. It doesn't hurt to connect with your faith of choice and say Thank You to the Powers that be, either.
After the intensity of this week's Tarot reading, you might be wondering why it's all unicorns and rainbows with the Goddess Guanyin divination lots. I'm happy to explain the very different energies: no worries, this reading simply means that quite a few of you are currently facing complex situations. But there's a way out:
Work with the advice given by the Tarot, and you will attain the blessings of the Goddess divination lot.
Have a great week ahead!
* * * * *
Seeking assistance from Spirit for love/career/your future, energy healing for people and spaces, or pet communication?
CLICK HERE for more information about my services.
CLICK HERE to make your booking. Please note that advance payment is compulsory and unpaid bookings will be cancelled.
CLICK HERE to submit a Contact Form if you have further enquiries.
Or e-mail: [email protected]

中文翻译
这周要注意的星象是1月12日或者13日(以你目前地理位置为准)的时候,太阳将会和掌管时间与因果报应的土星,以及掌管转变和阴影的冥王星,在土象星座的魔羯座里形成合相。
这代表了一个变化,成长和因果报应相关的强烈的新循环的开始。在未来几个月里,大家都会需要拥有勇敢,努力打拼和勇于负责任的态度。隐藏的秘密可被揭发,那些不择手段做着不正当生意和事情的人们则会发现自己的运气,健康,名誉和经济都在被急速消耗当中。
在这段过渡期的前兆,会有一些人发现自己的生命被提升到一个真实,荣耀和充满力量的新高峰。
反观一些人则将面临崩溃。
我本身发现当魔羯座的能量高涨的时候,因果报应通常都会打击着人们的痛处,即严肃务实的魔羯座所掌管的权力与金钱。
马太福音第十章第十六至十七A节:
" 我差你们去,如同羊进入狼群,所以你们要灵巧像蛇,驯良像鸽子。你们要防备人……"
这是耶稣在派出传达祂的福音的使者们时所说的话。所谓的灵性救赎其实就是:
真正的灵性来自你忠于最高的真实与你和宇宙之间的连结的生活。你并不需要一个机构,传统,大师甚至是一种教义学说。你是神灵的一抹星火,只要你愿意,你已经拥有了所有你所需要的答案。
耶稣救世主从来也没有教导过自己的追随者们成为愚昧迷信的新世纪之人。祂告诉祂的门徒,我们应该保持纯真之心,同时也要有能够策划的意念并且也要多给予自身环境多点关心。这也适用于广大自认为充满灵性智慧的人们。
这就是这周的塔罗的关键中心了,只要你善用这份智慧,那么你自然就能够应付自如。
【左:女教皇】
与你内心的声音,真实的自己,你最高的自我与灵魂再次连结。这张牌出现的时候,你可能正处于一个混乱不堪充满吵杂的处境,但是请记住你真正需要倾听的声音只有一个,那就是你的灵魂之声。
斩断所有的杂音,后退一步远离吵杂的政治问题等等。回归到那最高的自我和聆听自己的内心。你心中其实早已知晓自己应该做什么,答案就在你心里。别轻易被他人的言论所左右和否定。
女教皇的出现告诉你,要运用智慧去规划和采取行动,相信自己的直觉并且保住自己的秘密。别告诉任何人你的下一步棋要怎么走,女教皇是守住秘密之人,请务必要随时提高警惕。
【中:金币国王(逆位)】
即使在最平凡无奇的情况下,逆位的金币国王往往都不是一个好迹象。这张牌代表着一个夸大自身能力却实际上无法实现自己所承诺之事的人。这通常是一名男性,但却也可以是以为女性。不论此人是何种性别,他们都是没有责任心,掌控欲极强,强迫他人给予他们尊重,没有信用的人。不幸的是这些人通常都是领导,经历或者大集团里位高权重的人物。
金币国王以逆位方式出现的时候,以上所述的人很可能会在这一周里扮演者一定的角色。而这个人是谁,你心里也应该有数。
然而我希望各位注意着同时还有另一层的解释。若你身处一个困难的处境中并且不知道自己应该信任谁,那么你自己就必须成为这位逆位的国王。
这究竟是什么意思呢?逆位的金币国王在根本上是一位做足了表面功夫,不可信任之人。如果你目前正处于如同被蛇蝎围绕的处境中,那么这就是你必须要做的事了。
当然我不是在教唆你去成为恶人和放弃正气与尊严,而是提醒你一句凡事要精明一点。不要展露自己的弱点和让他人抓住你的把柄。让自己看起来忙碌但不要透露你真正的如意算盘。避开尴尬的话题与小人,金币组毕竟注重行动多于沟通。
【右:恶魔(逆位)】
在众塔罗牌众,这是我很乐意看到以逆位方式出现的其中一张牌。逆位的恶魔对许多人来说是一个好兆头。因为这代表着那些我们所害怕并且阻扰我们的事物其实并没有我们想象那么糟糕。
逆位的恶魔是可以轻易被克服的。要明白许多看似恐怖的表面其实都只是心里作用。这是反映着你内心恐惧的一面镜子,并非真实。因此请不要害怕,勇敢地为自己的目标前进吧。
与自己内心的女教皇再次形成连结,戴上精明的逆位国王面具,然后狠狠地教训逆位恶魔一顿。胜利必定是属于你的。
【观音签:第四十二签】
君皇圣后终为恩
复待祈禳无损增
一切有情皆受用
人间天上得期亨
这是一支代表了神助与祝福的上签,其描述了神灵的介入而实现梦想目标,好运和恩典。
这支签的解曰为 "天皇恩降 始终莫忘 晨昏礼佛 可宜烧香 "。不论你得到何种自己应得的恩惠,切记莫忘感恩。你可以向自己所信仰之神诚心地道谢。
这周的塔罗能量如此沉重,为什么观音签却是如此乐观开朗呢?不用担心,这纯粹只是表示了有些人正面临着复杂的状况,但是总会有一条出路。
只要谨记塔罗的指示便能够得到观音签里的所描述的恩惠。
祝各位有个愉快的一周!