Email reading services work best for clients who only have one or two questions to ask. More questions means you will incur a higher cost, in that case we highly recommend you to book a phone reading instead.
The first step for an e-mail Tarot reading is to confirm your questions with me via e-mail (Please use the contact form below). It's good that they are specific, but try not to limit yourself to yes-no questions only. Some examples of good questions include:
What can I do to improve my relationship with my boss?
How can I attract more compatible romantic partners into my life?
In good questions, the focus is always on what you need to know, and what you can do to improve the specific situation.
Bad questions look like this:
When will I get married?
What is the meaning of my life?
Why does everyone hate me?
Can you tell me what my daughter is doing that she refuses to tell me about?
These are all real questions that others have asked before.In bad questions, there tends to be a passive/victim mentality that makes it difficult for the seeker to move forward, change, or accept advice. Bad questions are also morally ambiguous, such as requests to spy on people without their consent.
The rate per question starts from $43. Some questions require a more complicated/detailed Tarot spread, and incur a slightly higher rate. No minimum number of questions is needed – just one and you're good to go.
Once the questions are confirmed and payment is made, your questions will be placed in the queue. Your reading should be in your inbox in about 5-6 business days. If you wish to receive your email readings earlier, there will be a 100% surcharge fee to expedite your request.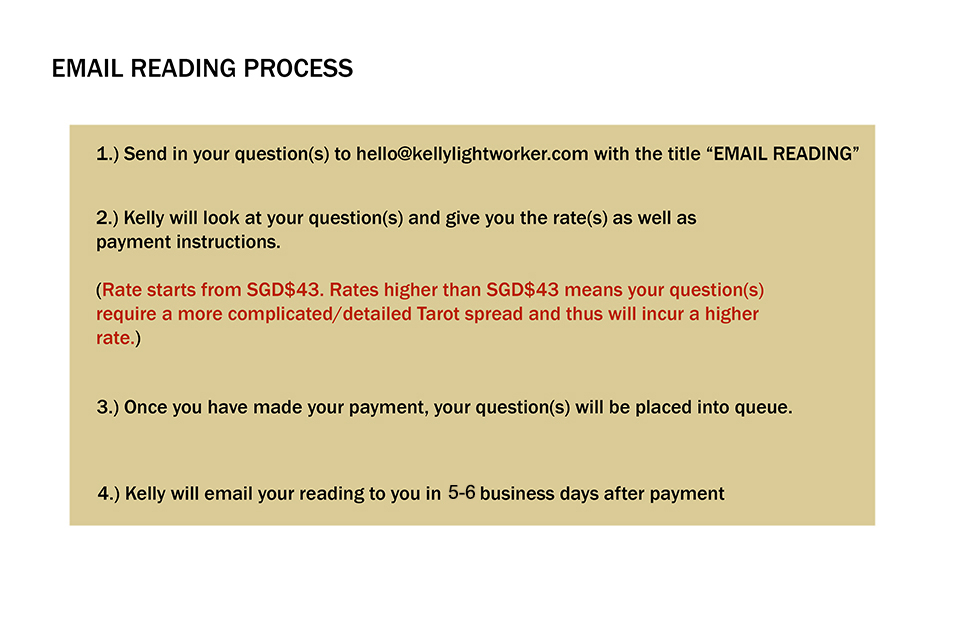 Once you are ready, please use the contact form below to send in your questions for email reading.